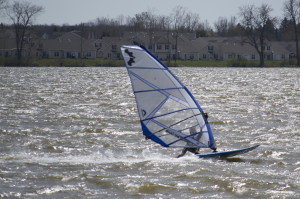 Launch Details
Predominently a Windsurfing launch due to trees and power lines, Long Pond can be sailed by beginner and advanced sailors alike. "The Pond' is fairly shallow and warms quickly in Spring. Many of the neighbors along Edgemere Dr. are accepting of Windsurfers rigging equipment on their property along the road. Take care to respect property and act responsibly when rigging at Long Pond. Cars must be parked on the pond side of the road.
Water entry is attained through the break in the guard rail, or by carrying equipment over the guard rail. Water quality is not excellent at Long Pond, so close your mouth if you go in, and shower soon after. Booties are strongly recommended as the pond bed is often littered with sharp debris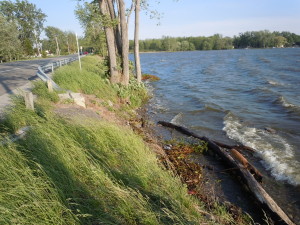 Preferred Wind Direction
WSW is the prefered sailing direction for advanced windsurfers due to the geographic orientation of Long Pond. Beginner and advancing windsurfers can also have success sailling Long Pond in most wind directions. The winds will be gustier resulting from a reduced fetch, and upwind sailing skills will be necessary when the wind has North in it. Updated wind information can be found at the Personal Weathe Station below.
Cranberry/Long Pond Wind Meter