Overview

Kershaw offers excellent riding for the beginner to advanced windsurfer. The gravel launch and parking area are to the east of the swim beach. The shallow sandy bottom is very beginner and cold weather friendly. When launching here be aware of the many pedestrians that walk and watch the action. Secure your rig safely on the ample grass rigging area. During the swim season make every effort to steer clear of the swim area. As well, in lighter wind many boats will anchor at the northern shore of the lake.
Kiteboard launching is prohibited in this area of Canandaigua.
Optimal wind direction: South, Southeast, Southwest.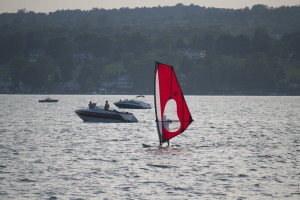 *Though quite gusty, Kershaw is also enjoyable in a West wind.